Episodes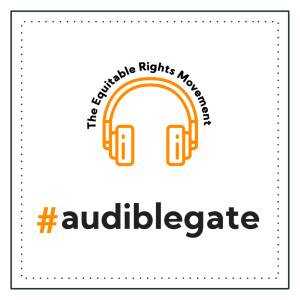 Tuesday Dec 21, 2021
Tuesday Dec 21, 2021
Vote With Your Feet, Sue Audible, and Take Your Audiobooks Wide!
Donate to the Audiblegate legal fund at Geni.us/Audiblegate

Romance writer, Erin Wright, is "morally allergic" to exclusive publication through Amazon and its audiobook subsidiary Audible. No-one can be a truly independent author, she asserts, when tied to such an abusive partner.

Erin has walked her talk, not only pioneering the popular Facebook group, 'Wide for the Win', but finding most of her own author livelihood outside the Amazon/ Audible empire.

In this episode of the Audiblegate podcast, Erin describes Amazon's lamentable track record when dealing with authors but also offers invaluable tips for those who go 'wide' with their audiobooks, including opportunities with Kobo and Chirp.

And she finds much to laugh about with hosts Abdiel and William as they swap stories about heartbreak, Idaho's potato culture and finding Christmas cheer amid the gloom.

Get informed, get outraged, and be merry with this latest episode of the Audiblegate podcast!