Episodes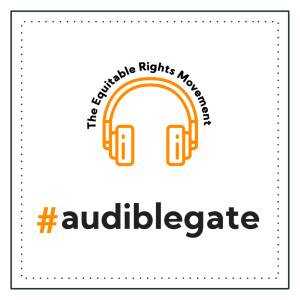 Thursday Sep 02, 2021
Thursday Sep 02, 2021
Donate to the Audiblegate legal fund at Geni.us/Audiblegate
Welcome to Season 2 of the Audiblegate podcast series with our new presenters, William Bahl and Abdiel LeRoy.
A massive tech monopoly enriching itself at suppliers' expense? We're shocked, I tell you, shocked! Well, strap yourself in. It's about to get ugly as we report from the front lines on Audible's wanton destruction of authors' and narrators' livelihoods.
William is an independent narrator of more than 400 titles, and Abdiel the author of some 20 books, most of which he has also narrated as audiobooks. In this first episode of the new season, Abdiel describes why he is "livid" about Audible's predatory behavior, and he trades horror stories with William about dealing with this rapacious monopoly and monopsony!
In 2020, Australian author Susan May began the Audiblegate movement to hold Audible accountable for authors' and narrators' losses due to their unfair listener "exchange" benefit. She leads a small, determined team who are fighting the biggest company in the world for justice. These Audiblegate podcasts take you behind the scenes of this international movement.
Join hosts WIlliam Bahl and Abdiel LeRoy, and discover the truth of this David-and-Goliath fight against corporate greed and graft.
Search "Audiblegate" wherever you listen to podcasts. Available at all outlets for Apple and Android.


Enjoy a front seat to a history-making legal fight by subscribing at: